Cleaning after renovation
The approximate price ranges from CZK 45 to CZK 180 per 1m², but depends on the difficulty level.
How we clean up after renovations
House cleaning after building and renovating is complicated and time consuming. If you can afford it, trust it to professional cleaners. It isn't too expensive as many thought.
Cleaning company "Ohayno" provides this service from 30 CZK per 1m². We clean flats, offices and family houses. Contact us on the web or call the following numbers.
After cosmetic repairs or reconstruction, it's quite challenging to get rid of building dust. We'll come to you with all necessary equipment, including industrial vacuums and professional cleaning products, and have your apartment or other spaces ready to move in within a day:
dusting the floor, walls, ceiling, furniture
we remove stains from painting, glue and building materials (putty, plaster)
we polish glass surfaces, doors, mirrors
we wash the floors
clean the gaps between the tiles
we remove protective films from windows
House cleaning after construction costs 45-180 CZK/m², the price directly depends on the complexity of the work. This type of cleaning includes everything besides window cleaning. Windows are charged separately – 120 CZK/m² on one side or 240 CZK on both sides.
The minimum price for team cleaning is 2500 CZK.
Who's cleaning up?
A team of cleaners and a master cleaner will come to you to clean up after the renovation. They will take with them all the necessary professional equipment: steam generator, building vacuum cleaner, also ladders and a variety of specialized cleaning products. If your apartment is 20-50m², 4 cleaners will come to you. If it is 50-100 m² – 6 to 7 cleaners.
The goal is a house that shines with purity, so we do all the work that is necessary to achieve this. The master visits the worksite beforehand to calculate the cost. If you are not comfortable with this, send us a video or photos of your flat so we can estimate the scope of the job. This is the basis on which the work is carried out:
counting cleaning workers
selection of cleaning devices
budgeting
After finalizing the details, adding extra services as needed, and confirming the list of services, our team will come to your home and start cleaning immediately. Calculate the cost of the cleaning using the calculator found on our website, or contact us.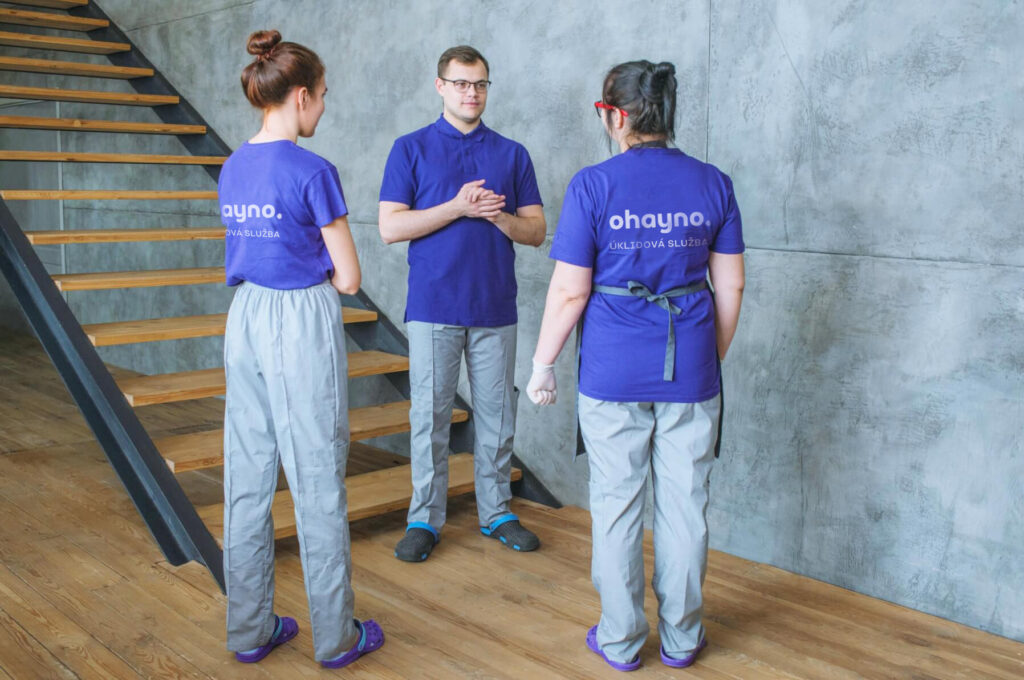 Cleaning after renovation [Price 2022]
| | |
| --- | --- |
| Service list | Price |
| Apartment cleaning after renovation, m² | from 30 CZK |
| Office cleaning after renovation, m² | from 35 CZK |
| Cottage cleaning after renovation, m² | from 35 CZK |
| House cleaning after reconstruction, m² | from 35 CZK |
| Window washing after renovation, m² | from 120 CZK |
| WC cleaning | from 150 CZK |
| Refrigerator washing | from 150 CZK |
| Kitchen appliance washing | 220 CZK/hr |
| Dishwashing | 180 CZK/hr |
| Ironing | 180 CZK/hr |
| Balcony | 150 CZK |
| Pet toilet | 150 CZK |
*Current price for August 2022
How to calculate the cleaning cost after renovation?
Apartment cleaning after renovation, as well as general cleaning, needs a preliminary assessment of the scope of work or the arrival of the master on the place.
In addition, to give you a more detailed estimate, we ask you to send us a photo/video of your flat or house in advance (as we want to give you a minimum price).
The table shows the minimum prices. Here you can see what the total price depends on.
| | |
| --- | --- |
| Price per 1m² | Conditions on which this amount is possible |
| 45-60 CZK/m² | empty apartment, no furniture, no greasy dirt/floor, only dust (walls, floor, ceiling), this price is for apartments over 15O m² |
| 60-75 CZK/m² | partially furnished apartment, e.g. there is only a kitchen, the rooms are empty, the price is for apartments over 15O m² |
| 75-90 CZK/m² | medium dirtiness, minimum furniture |
| 90-100 CZK/m² | fully furnished apartment (kitchen, chest of drawers, sofa, bed, cupboards) |
| 100-120 CZK/m² | large amount of dust, gaps between tiles, lots of furniture (need to wash inside) |
| 150-180 CZK/m² | Flat after a fire, flood or sewage system failure. |
| Windows | 240-260 CZK/m² window washing |
We aren't afraid of a large apartment and complete cleanings of various complexities, but the number of cleaners and duration may vary slightly from those announced in advance.
How do we work?
Depending on the size of the apartment, cottage or office, the team of cleaners can consist of 4-10 people:
up to 50 m² – 4 cleaners
50-100 m² – 5 to 7 persons
more than 100 m² – 7-10 specialists
Everyone has a task and tools. The foreman constantly supervises the quality of the work, controls its progress and helps with the neat removal of appliances or furniture.
We use professional and effective cleaning devices to perfectly remove traces of builders' dust and mixtures that remain on the surface:
industrial steam generators
industrial vacuum cleaners
foam cleaners
floor washing machines
Obviously, our cleaners also have sponges, mops, microfiber wipes, window wipers, brushes – all the tools they need to clean any surface, material or hard-to-reach area.
We use German cleaning chemicals that don't damage surfaces, don't cause allergies, are environmentally friendly, and can handle even hard-to-remove stains.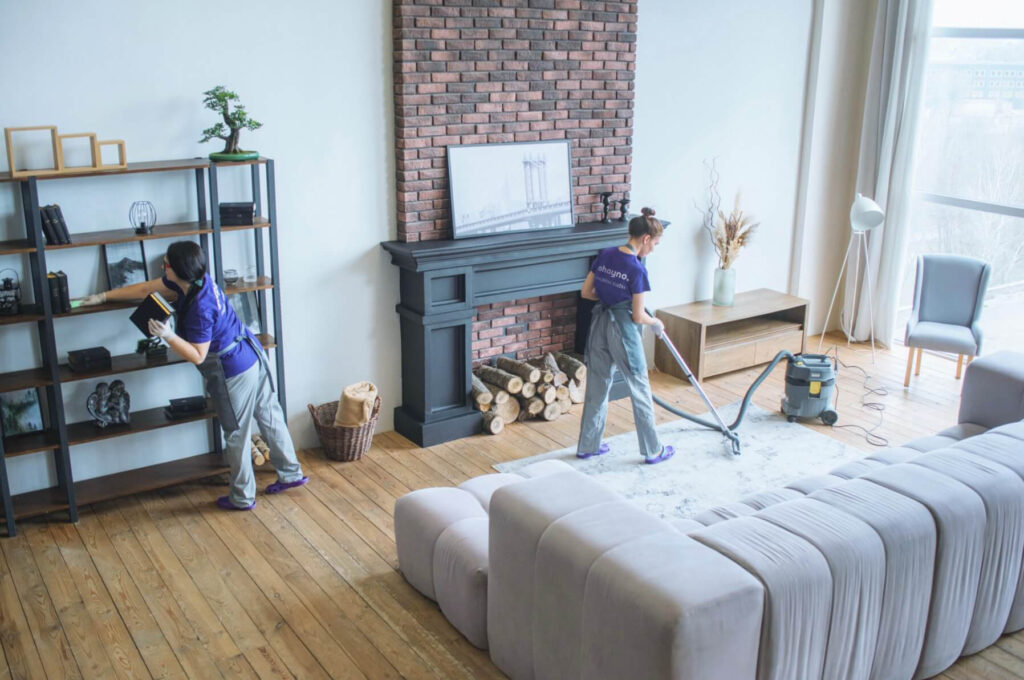 The housekeeping team is engaged in:
taking out all the trash, even if there's a lot of it.
removing foils from windows, furniture and ceilings
removing builders' dust from walls, ceilings, window sills, furniture, baseboards and floors
Dust is removed with an industrial vacuum cleaner, then by hand or with a floor cleaning machine. The builders' dust spreads all over the home, so this process needs to be repeated 2-3 times until it has a visible effect.
We use acid and alkaline chemicals, brushes, scrapers and a steam generator to remove traces of adhesive, grout, putty and paint.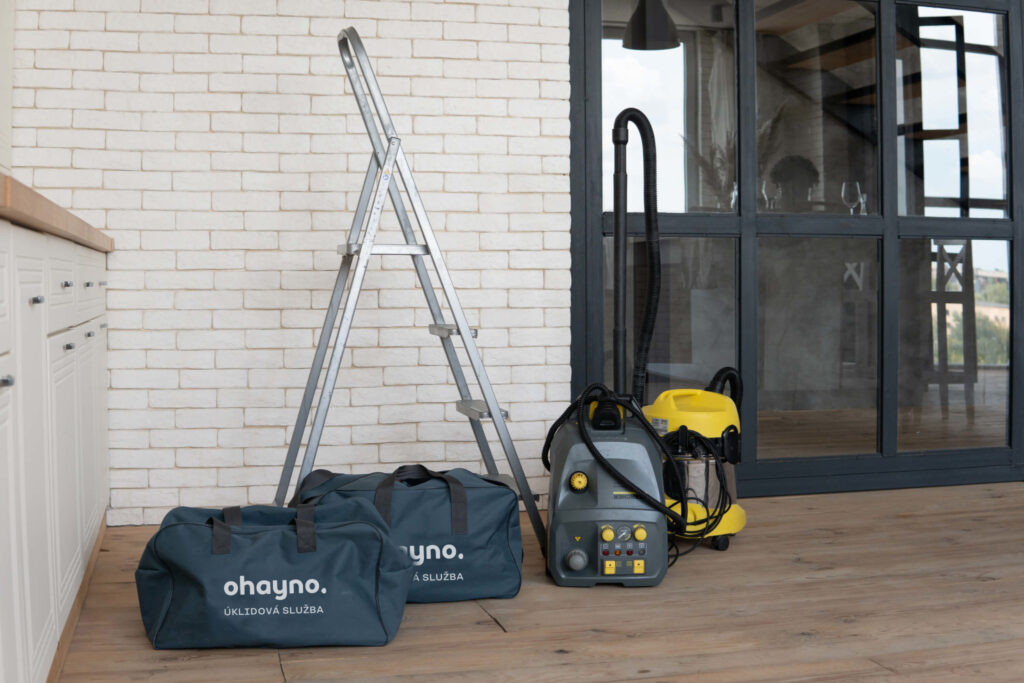 Cleaning service list after renovation
Room
Service list
Bedroom
– dusting walls, ceilings, floorboards, closed and open surfaces (furniture), sockets, switches, doors, steam cleaning radiators, floor cleaning, chandeliers of all kinds
– if necessary, we clean windows.
Kitchen
– everything that includes a bedroom
– in addition, we polish taps, glass interior parts
– we clean the joints between the tiles, wash the tiles.
Bathroom
– we clean the joints between the tiles, wash the floor and wall tiles
– we wash tiles, sanitary equipment, open-closed surfaces, showers, bathtubs, – sinks, mirrors, doors.
Cloakroom
– we wash and clean all open and closed surfaces
– dusting walls and ceilings, chandeliers, floor coverings.
It is important that no renovations, such as the installation of water pipes, furniture or doors, are carried out in the apartment during and after the cleaning.
Otherwise, the cleaner would need to dust all surfaces over and over again, increasing the time and cost of cleaning.
You accept the cleaning, together with the master you check whether each task has been completed, and only then, if there is nothing to clean, you pay us in cash or by bank transfer.
A special aspect of cleaning after a renovation is that the settled dust has to be cleaned several times. Therefore, the process takes a whole day.
In accordance with internal policies, we will use a vacuum cleaner and floor cleaner 3 times to remove all dust in the room and visibly clean the surfaces.
Despite this, we recommend at least one more regular cleaning within a month.
We work in Prague and surroundings
We are located in Prague, ul. Na Harfě 712/7, Vysočany, 190 00 Prague 9. We accept orders not only in Prague, but also in the surroundings.
Order cleaning on the website or by phone +420 770 668 279. You can do it at any time.
You can book a cleaning service via messenger, by leaving a request on the website or by phone. We recommend ordering a few days in advance, but if you need cleaning urgently – let us know and we will work something out.