Deep cleaning
General home cleaning from 40 CZK/m². Cleaners will come to you with full profi equipment.
It's good to keep your apartment clean, but it's advisable to do a complete general cleaning every six months. Yes, this is the time when you take everything out of the wardrobes, clean under any beds and sofas and polish the cooker hood and cooker.
An average housewife needs a few days to complete this task, but if the house is more than 100 m² it takes 3-4 days. In addition, manpower is needed, because it isn't easy to move a furniture cupboard on your own.
Our cleaning company has taken care of this and prepared a new service of general cleaning. It's also important when moving. The approximate price for the cleaning is calculated by our cleaner, either by video or photo. It is better to book the team cleaning 2-3 days in advance, but sometimes we can come the same day if available.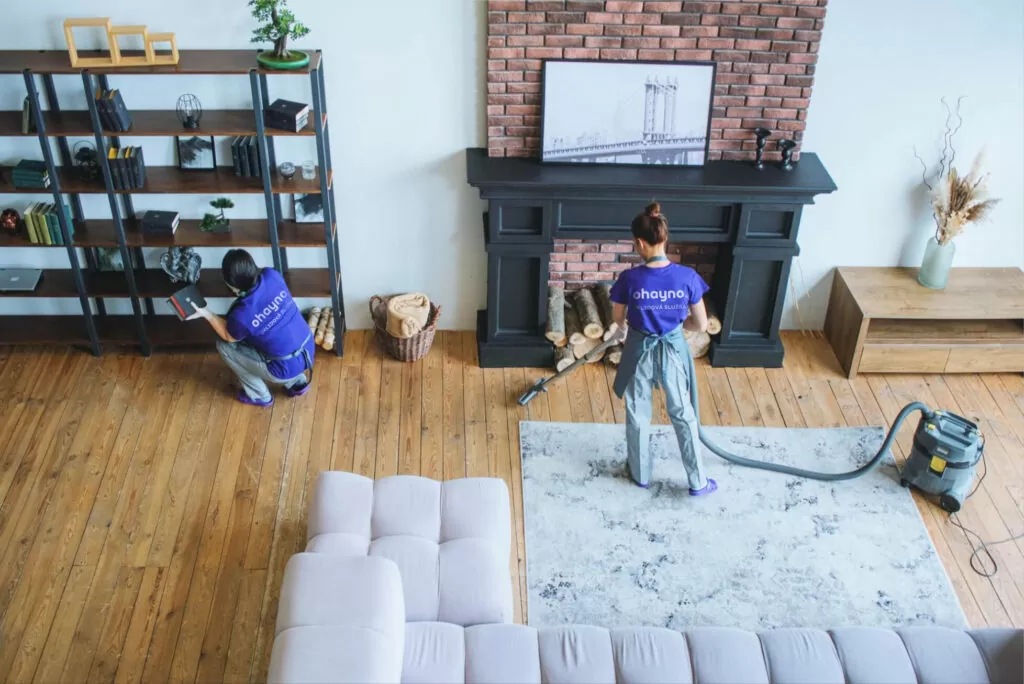 The way we work
A team of cleaners and our master will come to you
You tell him all your requests (like not touching something or paying more attention to a specific surface)
Then the master assigns tasks to the individual cleaners
During the cleaning process, he moves lockers, carries the vacuum cleaner from room to room, moves all large items and supervises the work of all cleaners.
What does a general (total) cleaning of the apartment include?
This kind of house cleaning includes EVERYTHING! We clean everything from the ceiling to the basement:
remove grease in the kitchen
remove water scale from taps, dust and dirt from the surface
open, empty and wash the inside of the cupboards
remove mildew, limescale and rust in the bathroom
we wash all windows, window frames and glass
remove spider webs from ceilings, walls and internal niches.
But! We would like to point out that our cleaners will do their best to clean everything, but if the apartment hasn't been cleaned or tidied for a long time, the dirt will get buried in the surface and no cleaning product will succeed in removing it.
How much does general cleaning of an apartment in Prague cost
The price of general cleaning ranges from 60 CZK/m² to 180 CZK/m².
The price depends on the level of dirtiness, whether the lockers need to be cleaned inside.
Window washing is charged separately, the price for washing is always the standard 260 CZK per sqm on both sides. If necessary, we can wash the windows from one side only (130 CZK/sqm).
How to know the price of cleaning
We usually ask you to send photos or a video of the apartment/house to evaluate the price per 1m². However, if you aren't able to do that, we recommend using the sample table of approximate prices to calculate the cleaning costs.
| | |
| --- | --- |
| Price per 1m² | The terms on which the amount is possible |
| 60 CZK/m² | the apartment is empty, no furniture, no greasy dirt/debris. |
| 75-90 CZK/m² | minimal amount of furniture, no greasy dirt/debris. |
| 90-100 CZK/m² | furnished apartment (kitchen, bedside tables, couch, bed, wardrobes), without extra items. |
| 100-120 CZK/m² | large amount of greasy dirt/debris, lots of furniture (need to wash inside). |
| 150-180 CZK/m² | home after a fire, flood or sewage system failure |
| Windows | 260-280 CZK/m² window cleaning (both sides). |
The minimum price for an arriving cleaning team to clean up is 2500 CZK.
At the end of the cleaning, our master will check the cleaning himself and then provide you with a clean apartment. You can pay in cash or by card.
Moreover, after the cleaning we will leave you a cleanliness and a discount on the subscription.
| | |
| --- | --- |
| Price: general cleaning in Prague 2022 | Price |
| General apartment cleaning, m² | from 40 CZK |
| Flat cleaning after renovation, m² | from 80 CZK |
| | |
| Office cleaning after renovation, m² | from 40 CZK |
| General office cleaning, m² | from 40 CZK |
| Cottage cleaning, m² | from 40 CZK |
| Basic apartment cleaning | from 825 CZK |
| Regular house cleaning | from 550 CZK |
| Windows washing | from 150 CZK |
| Bathroom cleaning | from 150 CZK |
| Refrigerator washing | from 150 CZK |
| Washing kitchen appliances | from 40 CZK/hr |
| Dishwashing | from 220 CZK/hr |
| Ironing | from 220 CZK/hr |
| Balcony | 150 CZK |
| Pet toilet | 150 CZK |
*Current price for August 2022
If you are interested in our other cleaning services, you can call us or leave an online application. If you need a general cleaning in the nearest future, we will mobilize a team of cleaners in 1 hour.
We work in Prague and around