General kitchen cleaning
Our staff will perfectly clean the stove, range hood, oven, microwave, sink and refrigerator inside.
Cleaning the kitchen requires a lot of time and energy. There are usually two types of dirt in the kitchen: grease and limescale on the water pipes. If kitchen fronts, stove, tiles and range hoods are not cleaned for a long time, greasy fumes accumulate on them, making them much more difficult to clean.
Our cleaners start cleaning from top to bottom, from the far corner of the room towards the exit.
First, we'll take the time to get the greasy dirt off. Take apart the range hood, apply the cleaning product to the grates and leave them in the sink while washing, for example, the hob or stove, the product will dissolve the grease and all that's left to do is rinse it off with running water.
Then we open all the cupboards, take out the dishes, cereal, etc., wash everything, including the inside of the cupboards, and put it back.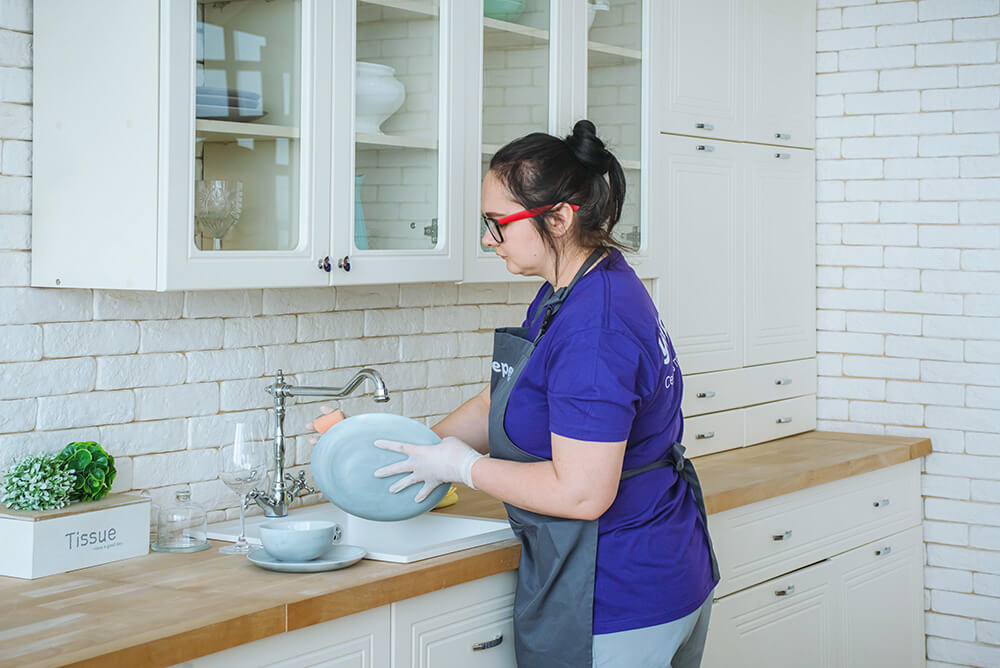 Next, the cleaning lady washes the floor and then sets about dusting all surfaces (window sills, kitchen cabinets, the fronts and edges of kitchen units, tables, chair backs and legs, drawers and switches).
Once all the tasks above are done, the cleaner will wash the floor again, paying attention to the skirting boards, and then finish the cleaning.
 General kitchen cleaning – price and duration
A general and deep cleaning of the kitchen takes our cleaners between 3 and 6 hours, a basic cleaning takes about an hour. The time depends on several factors:
the necessity to clean the inside of the oven, fridge, cupboards and microwave
level of grease stains
amount of items in cupboards and open areas
The price of general kitchen cleaning in Prague from our company is about 750 CZK to 1500 CZK.
If you need to clean the kitchen separately from all rooms, our manager will switch you to an hourly rate of 250 CZK/hour.
If you have ordered a basic cleaning service, it may include the following additional services:
washing inside the fridge (150 CZK empty/300 CZK with food)
oven washing (225 CZK)
microwave washing (150 CZK)
tidy and wash cupboards (220 CZK/hour)
However, it's worth noting that our staff are equipped with a set of eco-friendly cleaning products that may not rid you of some of the dirt (if it's more difficult).
Therefore, we ask the client to have several strong chemicals with them ("just in case") in case our remedies prove ineffective.
General kitchen cleaning will be easier if you order it more often and from us 🙂