Carpet Dry Cleaning Prague
Carpet is an important element of a cozy home. However, stains and dirt can appear on its surface while in use. Our carpet dry cleaning at home service can help renew the beautiful beauty of your carpet.
It's hard to imagine how much time and effort carpet care requires. Many people regret the work done, as dry cleaning on your own often leads to the preservation of dirt and damage to the structure of the carpet.
We recommend you to forget about such problems and use the services of the professionals. Our cleaning company provides services in Prague and its surroundings.
Professional carpet dry cleaning is carried out at the customer's home. You no longer have to take anything to the cleaners. Our staff will come to your address with the necessary equipment, cleaning products and clean any carpet.
Our price list: how much does it cost to clean the carpet at home?
The price of each dry cleaning is calculated individually. The following parameters should be taken into account:
object size
type of coverage
material
fiber length
stains and their severity.
The cost of cleaning also depends on whether individual attempts are made to remove stains and soiling, and on the product used.
Our prices are more reasonable compared to our competitors. You can see for yourself in the table below:
| | | |
| --- | --- | --- |
| Object | Our price, CZK/m² | Competitors price list, CZK/m² |
| Carpet/carpet covering(with general cleaning) | from 25 CZK | 60 CZK |
| Carpet/carpet covering(without general cleaning) | from 40 CZK | 60 CZK |
A minimum order amount (CZK 1,500) is set for the home cleaning service. If the price of the ordered service is lower, our specialists will offer you additional services.
This can be dry cleaning of sofas, curtains, pillows or mattresses.
Within a few hours we can do a general cleaning of your apartment, wash the fridge, microwave and cupboards.
You have nothing to do but enjoy the perfect work of our cleaners. Our employees are carefully selected, so their qualifications and integrity are undisputed.
Why should carpets be regularly dry cleaned?
All carpets should be dry cleaned at least twice a year. If there is a lot of flow of people in the room, it should be done every 3-5 months.
Carpet dry cleaning solves several important problems:
helps remove dust more thoroughly;
allows to remove mites and harmful microorganisms.
Therefore, a deep dry cleaning isn't just a fashionable thing to do, but a necessity. This procedure helps to protect the health of visitors, residents of the house or apartment.
Carpet chemical cleaning: what's the advantage?
Wet cleaning is recommended by experts for various reasons. This procedure has several advantages:
Perfect result. Professional cleaning agents remove all dirt, even settled dust and stubborn stains.
High-quality disinfection. Bacteria, mildew and mites are completely eliminated by these cleaning solutions.
Saving time. In a few hours, the cleaning company will get your carpet perfectly clean while you focus on more important things.
There are no difficulties with transport. Some objects are better cleaned on location – at the customer's home or office. Especially if they are large objects that are difficult to transport to the cleaning company's office.
Security. Our cleaners use only professional products that won't harm the house inhabitants or animals. We choose them carefully with regard to the type of flooring to avoid damaging it.
In some cases, cleaning is the only way to quickly remove stains caused by spilled liquids or pets in the home. You can also book professional cleaning services at any time.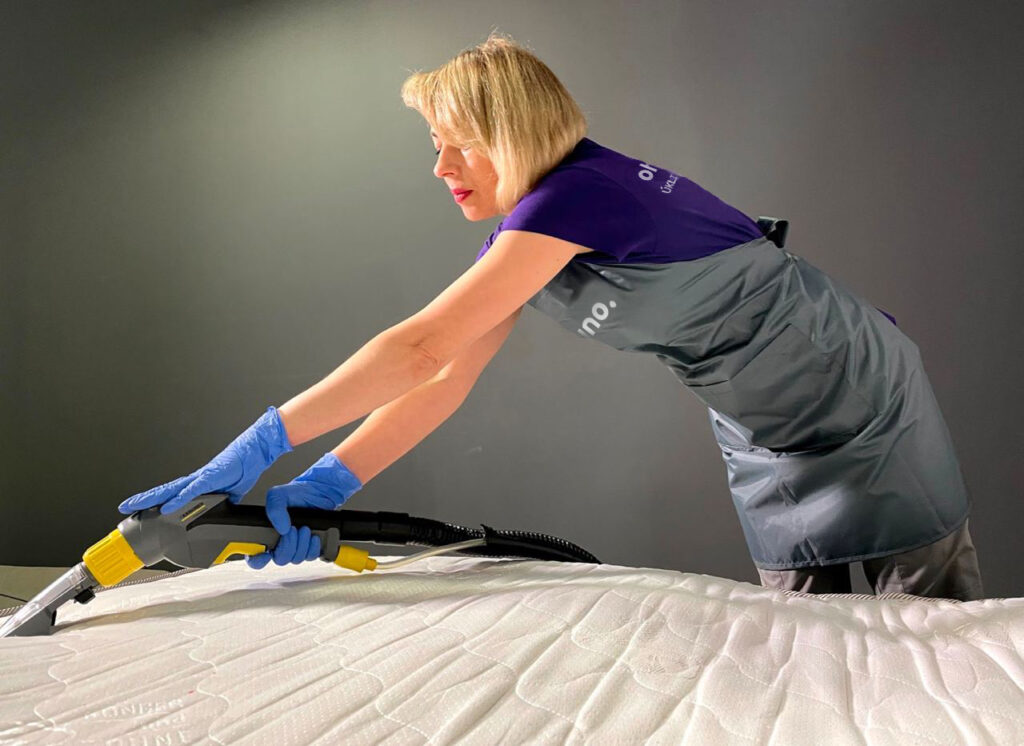 Dry cleaning preparation
Our staff will carry out an assessment of the work and gather information about the object before dry cleaning begins. They need to obtain information on the type, nature of soiling, type of stains and information on the product labels.
In some cases, mechanical fibre tests are carried out to see how the fabric reacts to dry cleaning chemicals. If there isn't a label on the carpet, experts will take particles of the fibre to determine its type.
To guarantee the quality of the carpet dry cleaning, the worker will specify a few details:
| | |
| --- | --- |
| Question | Advanced information |
| Wear and tear of coverage | It isn't always sensible to clean an old carpet. |
| Experience with self-cleaning | Using cleaning products that aren't designed for carpets can cause damage to them, preserving stains. In this case, it isn't always possible to improve the situation. |
| Date of dirt | The origin and age of the stain is important as this will help you choose the right cleaning products. |
| Cover type under carpet | Cleaning cannot be done in some cases where the floors aren't resistant to moisture. There is such a thing as dry carpet cleaning, but it is not convenient for the customer because it is more expensive. |
Many housewives prefer to deal with stains themselves. However, when they realize that the situation is getting worse, they turn to a specialist.
Important: If you are trying to remove stains or smells from the coverings yourself, tell your cleaner what chemicals you have used. This will prevent damage to the surface and ensure a successful wet cleaning.
The carpet cleaning stages at home?
Once the necessary information is received, the staff gets to work. At this stage, a cleaner selects that can cope with the resulting dirt. If necessary, the surrounding surfaces must be protected.
Before using the cleaning liquid, vacuum the carpet. The cleaning agent is then spread on the carpet surface using professional equipment.
The cleaning product is sprayed under pressure. This ensures deep penetration into the pile structure.
Our cleaning company uses quality German products KIEHL, Chempsec and others, which are designed to fulfill the requirements of professional cleaning.
High-quality products are suitable for dry cleaning various types of floor coverings. They are suitable for many types of dirt, do not damage the pile structure and preserve the colour of the coverings.
Stubborn stains and heavy soiling may require the use of a stain remover. Our cleaners can select a product based on the type and age of the stain. The products we use are 99% effective.
Our workers use a powerful vacuum cleaner to remove dirt. A special jet also captures the residue of the cleaning agents used in the cleaning process.
The powerful vacuum turbine ensures minimal remaining moisture in the coverage. Complete drying usually takes 6-7 hours with optimum humidity and room ventilation. The last stage of the work is rinsing.
The final drying can be done by drying with an industrial dryer (additional service to be paid separately) or by natural drying (it is important to ensure good ventilation of the room).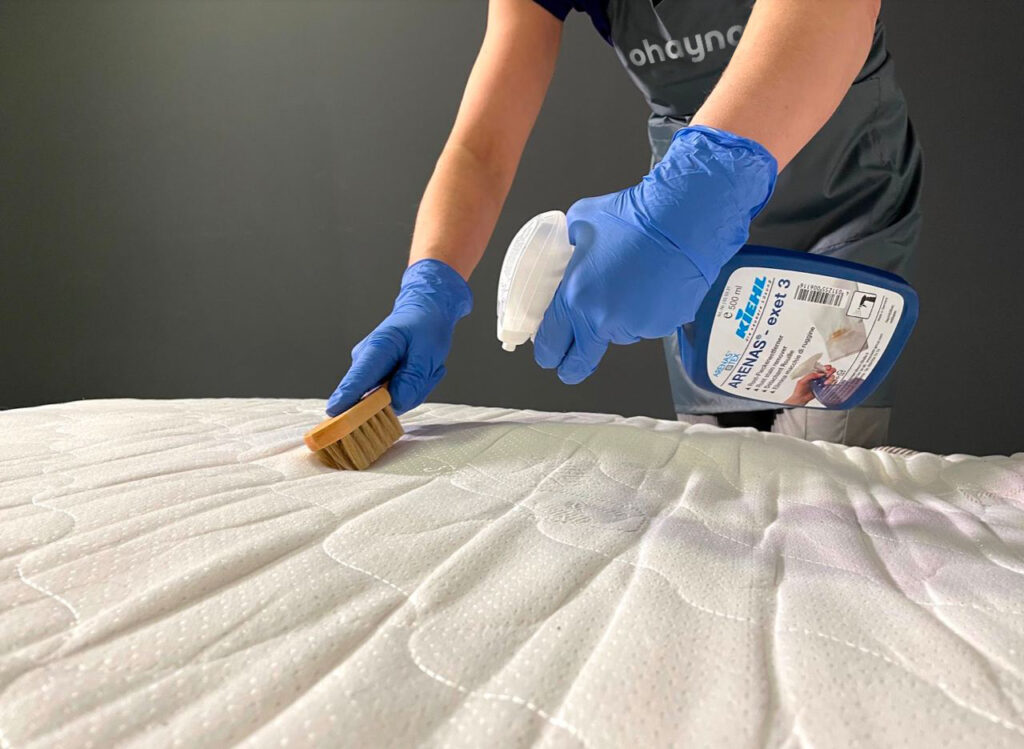 What stains are we able to remove?
We remove 99% of stains and dirt from carpets, carpeting and other types of coverage.
Professional stain removers, steam generators, extractors and other equipment can remove the following types of dirt:
stains from wine, tea, coffee, cocoa, fruit/vegetable juices
oily stains
vegetable, fruit, plant and herb residues
rust stains
traces of ink, markers, oil paints
make-up stains (lipstick, tinted cream, powder, etc.).
It's important to note that not all stains can be removed. For example, turmeric stains are very difficult to remove from all types of surfaces, even using modern technology and aggressive products.
Removing other types of stains isn't usually a problem. However, we recommend that the customer doesn't try to remove the stain themselves. In this case, it is likely to be more difficult for the worker to remove the stain.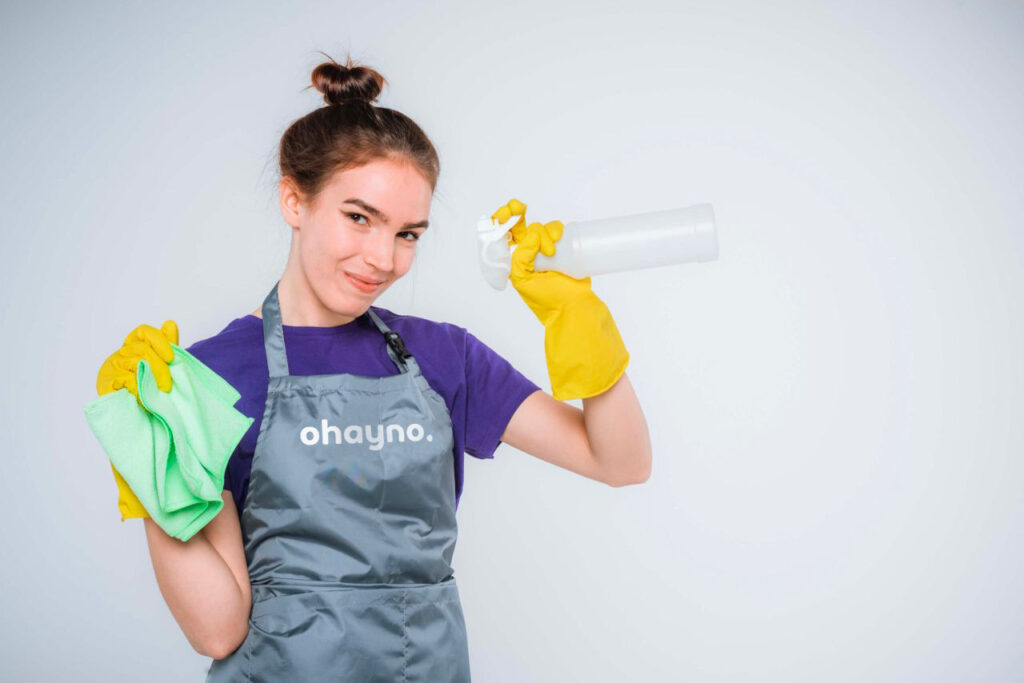 Removing smells from the carpet?
Carpets have the ability to absorb odors, especially in the case of high pile products. Smells can linger in the carpet for several years and cause discomfort to the inhabitants of the apartment or house.
However, neither special absorbers, nor masking products, nor regular ventilation, nor even fragrant cleaning products can remove them. The smell may only disappear after professional cleaning.
We use high quality cleaning products that can be used to remove the smell of animal urine, tobacco, mustiness and mildew during cleaning. Ozonating can also help remove fire odors.
Professional cleaning of our company
Our cleaning company has been operating in the cleaning services market for many years. We specialize in apartment and office cleaning, cleaning in Prague and its surroundings.
We select our employees carefully and pay special attention to their training. In case of damage to property, you will be compensated.
In addition to high professionalism and excellent quality of service, we guarantee the following benefits to our valued customers:
Effective cleaning products. We use ecological products of international manufacturers. They have good cleaning properties and can handle all kinds of dirt.
Total health safety. Hypoallergenic detergents do not harm adults, children or animals.
Guaranteed results. Our workers can handle almost all types of dirt without damaging the structure of the coating fibres.
Speed. We dispatch cleaners to your address as quickly as possible. You can even leave a request at night and a worker will show up in the morning with a full set of resources and equipment.
Savings. No need to waste time transporting the covers to our warehouse. We'll do the cleaning right at your home, saving you time and money.
We work all over Prague and surroundings