Dry cleaning of soft furniture
Dry cleaning sofas, couches and sofas at home in Prague from 199 CZK!
Our cleaning company provides dry cleaning of soft furniture in Prague. For cleaning we use eco-friendly cleaning products, so it's safe for children and animals.
So what are we dry cleaning?
The most frequent order of our company is the dry cleaning of these objects:
Sofa dry cleaning
Seats dry cleaning
Seating group dry cleaning
Chair dry cleaning
Armchair dry cleaning
Sofa pillow dry cleaning
Pouf dry cleaning
The cleaning service is a cost-effective option. You don't have to go anywhere, just call us +420 770 668 279 or text us online.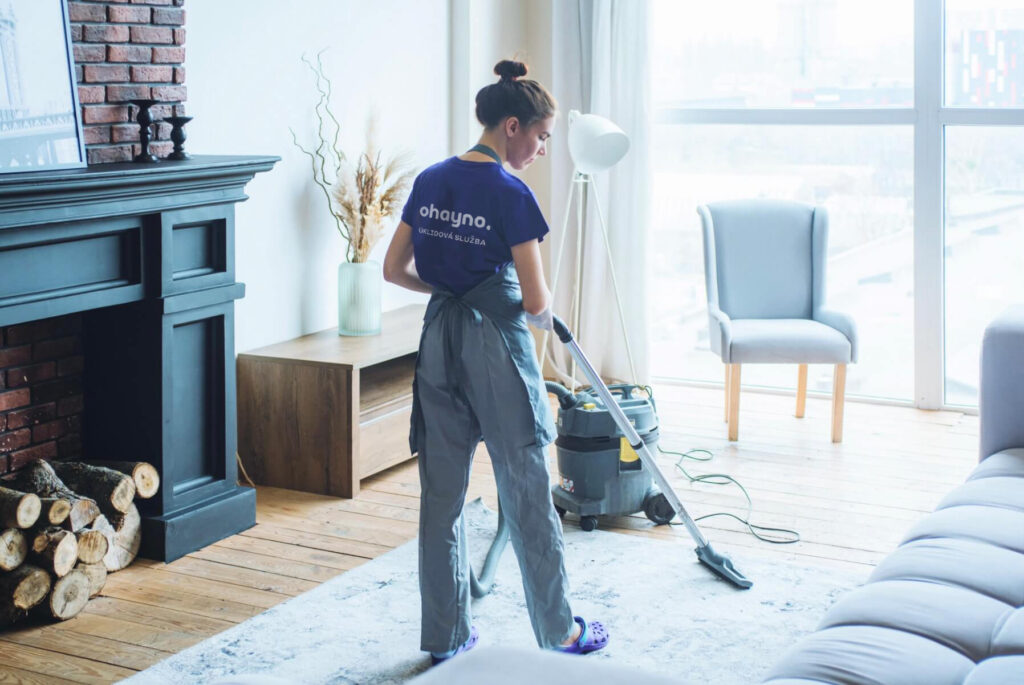 Sofa dry cleaning – our price list
The manager needs to know some details to calculate the price:
object size
if it's a sofa, whether it is a convertible or a movable
the existence of stains and their intensity
whether the client tried to get rid of the dirt himself and what cleaning solutions he used
it is important to find out about the material, so we ask the client to take a picture of the label.
best to clean both sides, as moisture from one side spreads to the other, which can cause stains on the other side of the mattress
When ordering sofa cleaning, customers will find it useful to know that one seat is about 50 to 60 cm long and two seats are about 150 cm long.
If you order dry cleaning in addition to household cleaning, the price will be greatly lower!
| | |
| --- | --- |
| Object | Price |
| Sofa | 1 seat – 400 CZK2 seats – 800 CZK3 seats – 1200 CZK |
| Corner sofa | from 400 CZK |
| Armchair | from 400 CZK |
| Chair | 90 CZK/pc |
| Sofa pillow | 90 CZK/pc |
| Poof | 180 CZK/pc |
Minimum order value should be 1500 CZK.
The price of dry cleaning sofas, chairs, armchairs, etc. in our company is also influenced by the use of expensive cleaning products that are free of any harmful ingredients. Its usage is safe for expensive surfaces (the main point is to select the right product), people and animals.
If you are offered to clean sofas, couches, etc. at too low a price, it may mean that the company is using cheap products or ineffective equipment.
How do we work?
Čištění čalouněného nábytku se skládá z několika fází.
Posouzení rozsahu prací a získání informací o objektu
Soft furnishings dry cleaning consists of several stages.
Work scope assessment and obtaining information about the object
Before starting the dry cleaning, the worker will check the object and find out the following information:
what's on the labels
type of dirt and stains
colouring type
whether the nearby parts of the object are rusted
whether the object has defects (breaks, deformations, burnt or faded areas, etc.)
To make the cleaning of settees, couches, sofas and other furniture as effective as possible, the employee will ask the customer the following questions:
Object's age. If it's too old, cleaning may not be worthwhile.
Previous dry cleaning experience. Sometimes the cause of damaged padding is due to incorrect cleaning and the use of wrong products.
Type of dirt and its age. For effective cleaning, it is essential to choose the right type of cleaning agent. To do this, it is important to know the source of the dirt. Traces of ballpoint pen, urine and food residue need to be removed in different ways.
The type of products the customer uses. Most often, the customer will do the first spot cleaning himself and when he realizes the stain has remained or has increased in size, he will call a cleaning company. It is important to tell the cleaning lady what products were used.
Honest and detailed answers to all questions will help the cleaners to deal with them better.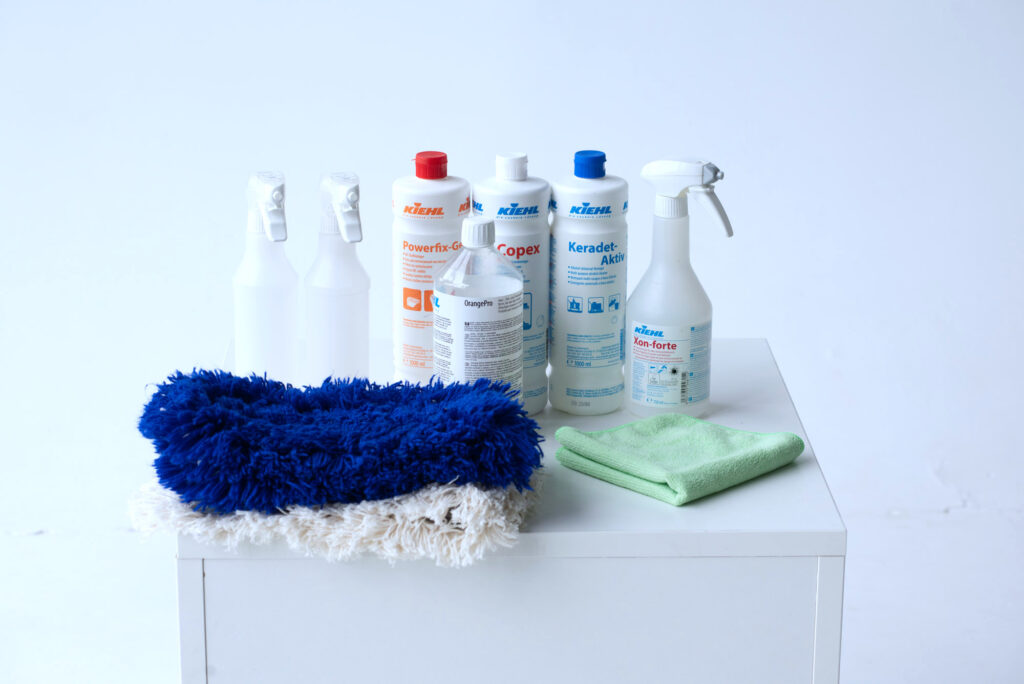 Work process
Cleaning begins with the stain remover preparation and then the foremen will protect the surrounding surfaces. For example, parquet floors need to be carefully protected as they can swell during cleaning. Before using the stain remover, the cleaners vacuum the surface.
Stains are removed using an organic, hypoallergenic cleaning agent and then chemically cleaned using modern professional equipment.
To avoid unpleasant smells, it is necessary to take care to remove moisture. Drying can be natural, in which case it is important to keep the room well ventilated, or dried using industrial dryer.
Taking care of customer safety
Cleaning without cleaning products is not possible, but they are very varied. For cleaning we use only hypoallergenic organic products from Germany, Turkey, Austria and the USA. These are expensive products because we try not to spare on the health of our customers.
The following reasons why you should order our cleaning services:
The service is provided at home, you don't have to wonder how to put the couch or chairs in the car.
Each of our staff is trained professionals who know how to operate the equipment and cleaning products.
To guarantee the safety of our clients and their property, we check each employee for criminal records, problems from previous employment, and only people with clear backgrounds and no bad habits come to us.
We are always client-side; if you are dissatisfied with the result, we will redo the work, give you a discount or solve the problem in another way.
To help you decide, take a look at our customer reviews.
Working in Prague and surroundings